ATLAS:
Blog Post by Robert Orozco of Orozco Designs
One of the most distinguishable and renown figures in the world of strength. Atlas a Titan, but not just any Titan, THE Titan that holds the World. Why does Greek Mythology matter in regards to an illustration, well the reality is it comes down to symbolism. Atlas speaks Power, Stability, Timelessness, Support, and a classical epitome to Strength
Having looked at the initial images proved by Lift 4 Life I wanted to combine the aesthetic of the textures provided, while still maintain a unique illustration that holds true to my style. Once I knew we would be doing an Atlas illustration I spent some time looking at poses and angles that would look the most prolific, especially a post that would allow the wood and stone halves to show well. The idea of wood is to show growth, stone to show strength, and the overall theme of Atlas emulates the great power that is possible through Power-lifting, but more importantly the effect it has in the communities Lift 4 Life will be helping, Atlas holds our world up, but I l ike to this resonates with the idea that Power-lifting holds people who enjoy it together.
Lastly I want to touch on the overall style and theme, I wanted to have a very detailed and thought out design that would grab attention, the idea being these shirts are more than just a piece of fabric, they are going to be worn by people looking to help further the growth of Lift 4 Life and ultimately by lifters around the world who were helped by Lift 4 Life, so I wanted to create a powerful illustration that can be timeless.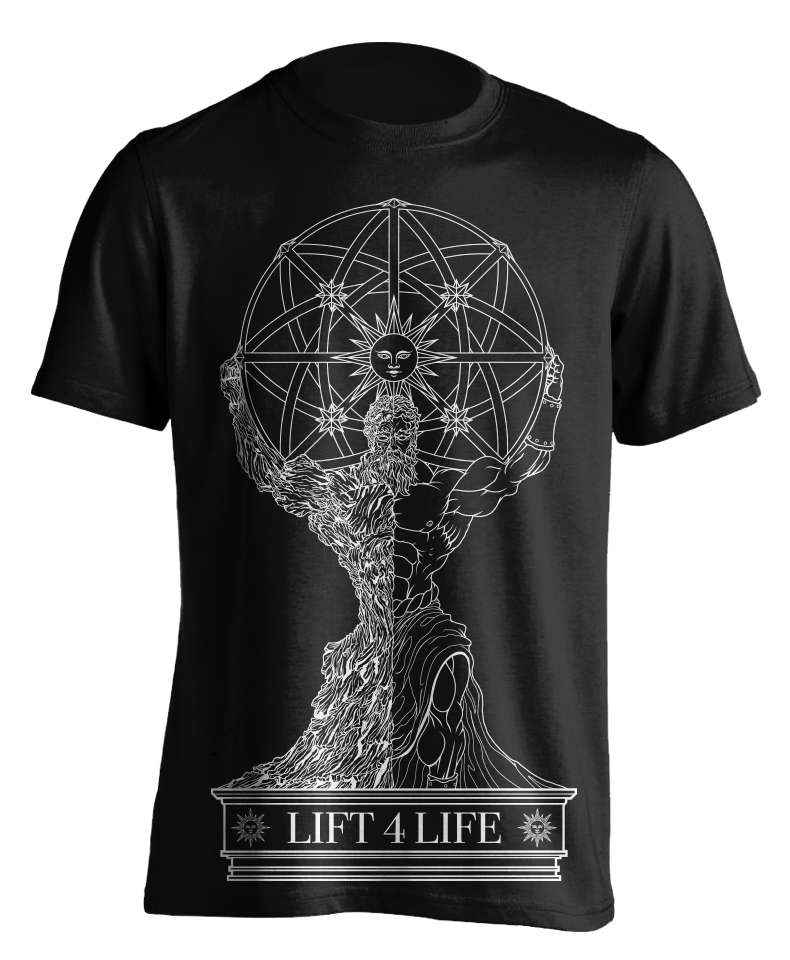 LIFT4LIFE TEAM:
With out further delay we are pleased to announce the sale of this design in the form of a LIFT4LIFE shirt. Photo of the shirt is with the set of images above! Shirts will be 25 dollars and go on sale in two weeks via the shop on our website. Shipping will be included in the price of the shirt. We are using this two week time to produce shirts and to set up our shipping account. If you live in the Columbus/Dayton area we have a limited run of shirts that you could pick up and purchase. If you are in town and would like a shirt please email us at team@lift4life-worldwide.com to inquire about getting a shirt before our shop opens up! We are excited to begin raising money for the non-profit through the sale of these shirts and using them as a tool to help get the word out about the cause around the country from people wearing these shirts! Once we have shirts we would love for you to tag us in photos you take so we can share them on Instagram! Thank you in advance for all the outreach and support you have given us!
As always thank you for taking the time to read about LIFT4LIFE and you can all help us by sharing our website, liking us on Facebook, inviting your friends to the page, and following us on Instagram!
Spread the word and help us grow the community
of powerlifting worldwide!
Follow us at:
Instagram: LIFT4LIFE_worldwide
Website: lift4life-worldwide.org
Facebook: lift4lifeworldwide
Link to donate: Donate
Follow Orozco Design:
Instagram: Orozco Design
Website: Orozco Studio